Healthy ambition:

thrive in education and beyond
UNiDAYS partners with brands to support students on their education journey and beyond in even more valuable ways, complementary to our marketplace. From mental health support to careers advice, students and recent graduates can access affordable resources that help them thrive inside and out of the classroom.

Built on student insights
Plan on purchasing study materials before the start of university
Find price the ultimate barrier to purchasing study materials
Are worried about their academic performance
Name 'finding employment' as their biggest source of stress and worry
A trusted hub for the best tools
Nearly 80% of employers believe graduates aren't work-ready on entering the employment market.
UNiDAYS takes the unique opportunity to bridge that gap, providing valuable resources and tools that are tailored to students' specific needs and goals, addressing some of the most significant challenges they face at university and beyond.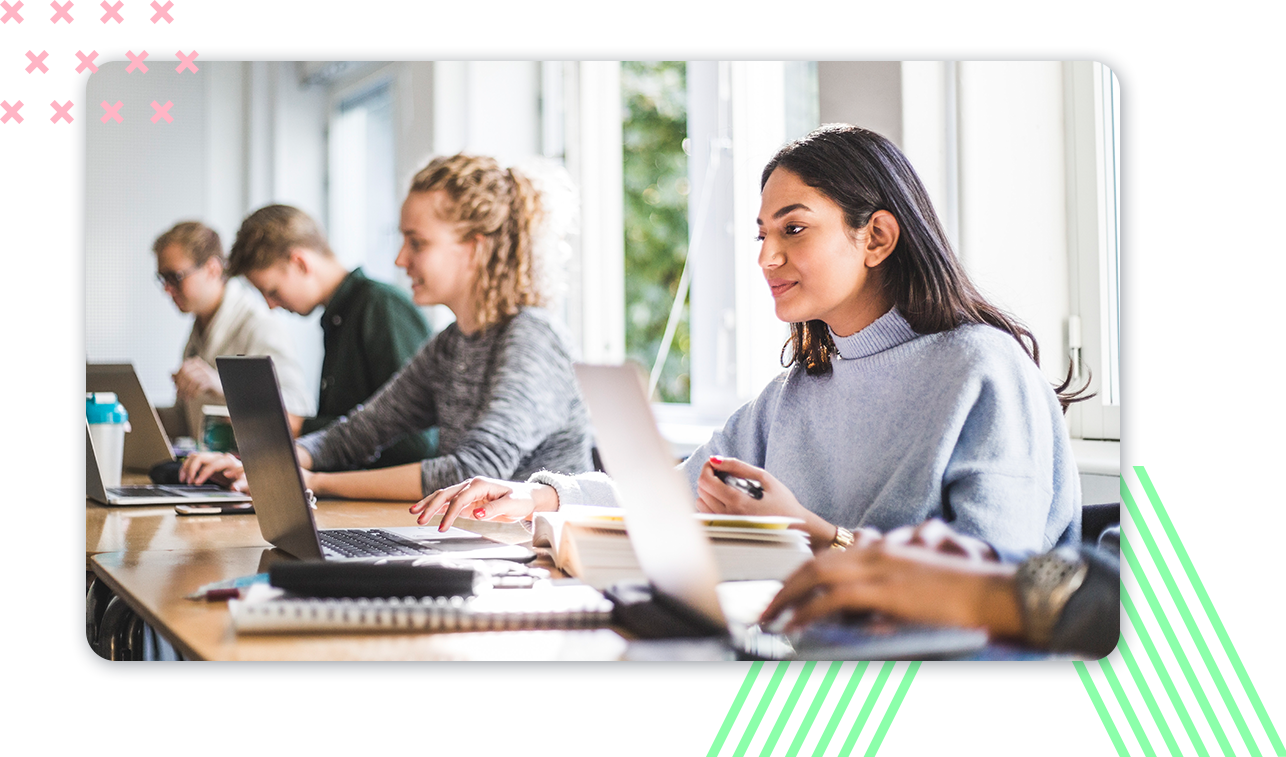 We provide resources in the following 3 areas from trusted brands
LEARNING
Study smarter for better grades and extra-curricular skills
WELLBEING
Nurture a happy, healthy mind and manage stress
EMPLOYABILITY
Upskill, earn money and make informed career decisions
Some brands we're already partnered with





Partner with us
Whether you're a brand or an educational institution, there are several ways we can work together.
We support many brands to tap into an engaged audience of 27m students and young people every day, if you operate in the learning, wellbeing or employability spaces, there's a few different ways we would love to work with you:
Advertising solutions
Engage and inspire this hard-to-reach audience in a gated, brand-safe and trusted environment that's engineered for conversion. Improve performance with impactful placements, storytelling and content solutions both on and off network, all with granular targeting and access to first-party data.
Strategic partnerships
The sky is the limit as we develop innovative ways to partner with brands in these sectors, ranging from creating resource bundles through to funding member access to services.
Investment opportunities
If you are serving our members in these categories then we would love to hear about how we can invest in your growth. We invest anything from £50k-£5m in the most ambitious new and existing brands who share our passion of transforming the lives of young people.
We are eager to collaborate with universities and colleges to provide more students with our beneficial resources and tools, relieving pressure on institution staff.
Bolster academic performance
UNiDAYS provides many innovative and bespoke avenues for students to overcome challenges that might affect their academic performance and restrict their future opportunities, all on one easy-to-use, secure platform.
Supplement your existing services
We can assist universities and colleges in bolstering study support, mental health and career resources with gated access. This makes it easier for students to access the most up-to-date and relevant tools accessible way, whenever they should need it.
Together, we can help all students reach their full potential.
In addition, we can assist universities in supplementing the services you currently offer such as Mental Health and Career Services. We can enhance these support services by directing students to our comprehensive collection of resources. Our resources are designed to complement and augment the support you already provide, making it easier for students to access the mostup-to-date and relevant tools in an affordable and accessible way.
"It has helped me to complete courses in subjects I wouldn't have thought would be an option for me, but I have ended up enjoying thoroughly. It's helped to give me qualifications that bulk up my CV."

Catherine


Second year student, UK